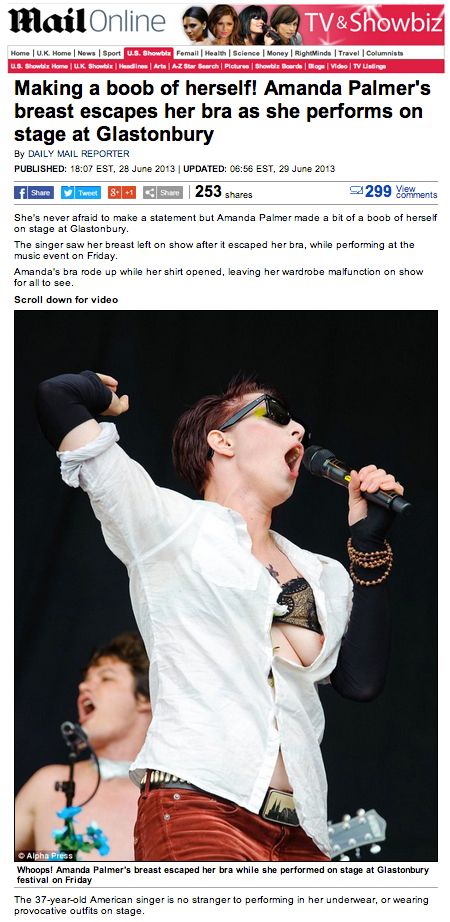 När Amanda Palmer uppträdde på Glastonbury festival hamnade hennes bröst  utanför hennes BH. Rubriken i The Daily mail lydde som fyndigt följer: "Making a boob out of herself! Amanda Palmers Breast escapes her bra as she performs on stage at Glastonbury". 
Att deras rubricering och text handlar om just denna incident, istället för konserten i stort, är ett typexempel på hur fokus kan komma att hamna när det handlar om just kvinnliga artister. Det finns tyvärr många sexistiska skäl till att det här räknas som en nyhet: naken kvinna är uppseendeväckande. Sex säljer. Tänk så tokig hon är som inte skyler sig. "Whoops" Hoppsan hejsan. Hon går att göra narr av också. Humor! Kvinnans utseende är det viktiga, inte det egentliga framförandet.
Men var hennes bröst befinner sig under hennes spelning är hennes ensak, ingen annans. Och hon har valt att uppmärksamma denna sexism. Detta märkliga nyhetsfokus. Hennes replik är en hel låt som är riktad till tidningen, som hon valt att framföra live i London. Samtidigt väljer hon att äga sin kropp. Hon väljer att ta aktiva beslut när det kommer till hennes kropp. Hon visar tydligt att "it's just a naked woman". Och det är precis vad det är.